We all know the saying, "Everything's bigger in Texas." Texas is the largest of the contiguous 48 states. From oil production to ranches, Texas tops the list. At the Heart of Texas Lashes in Weatherford, TX, we add to that list. Our mega volume lashes offer the highest density of all lash extensions on the market. If you want to go home with the longest, thickest lashes in Texas, make an appointment for a mega volume lash extension at our lash studio!
What are Eyelash Extensions?
Many women opt for mascara and false eyelashes to lengthen and thicken lashes. Unfortunately, mascara can smudge, run or smear, resulting in an unwanted dramatic look, such as dark under-eye circles or flakes on your skin. Mascara tends to clump and make lashes look stiff and artificial. It can also irritate your eyes.
False eyelashes are strips of artificial fibers glued to your eyelids with adhesives. They often look cheap and unnatural. They are usually thrown away after one use although better-quality strip lashes can be worn more than once. Falsies weigh down your natural lashes, which can cause your lashes to break or fall out. If the adhesive is weak or not applied properly, false eyelashes can fall off when you wear them. The last thing you want is your lashes to fall off when you are on a date or in a meeting.
How Eyelash Extensions are Applied
Eyelash extensions are a great alternative to mascara and false lashes! The process involves applying individual extension lashes to your own lashes to fill in gaps and give an appearance of naturally dense eyelashes. Lash extensions are available in many materials, including synthetic fibers are used the most.
Extensions are usually, but not always longer than natural lashes and enhance their natural curve. More volume makes lashes look darker.
Extensions are placed on your natural lash 1 millimeter above the root. Classic extensions are made of one synthetic lash. Volume and mega volume extensions are made of several thinner lashes fanned together by hand. Fans are applied one at a time with a special adhesive that does not harm your skin or weaken your natural lashes.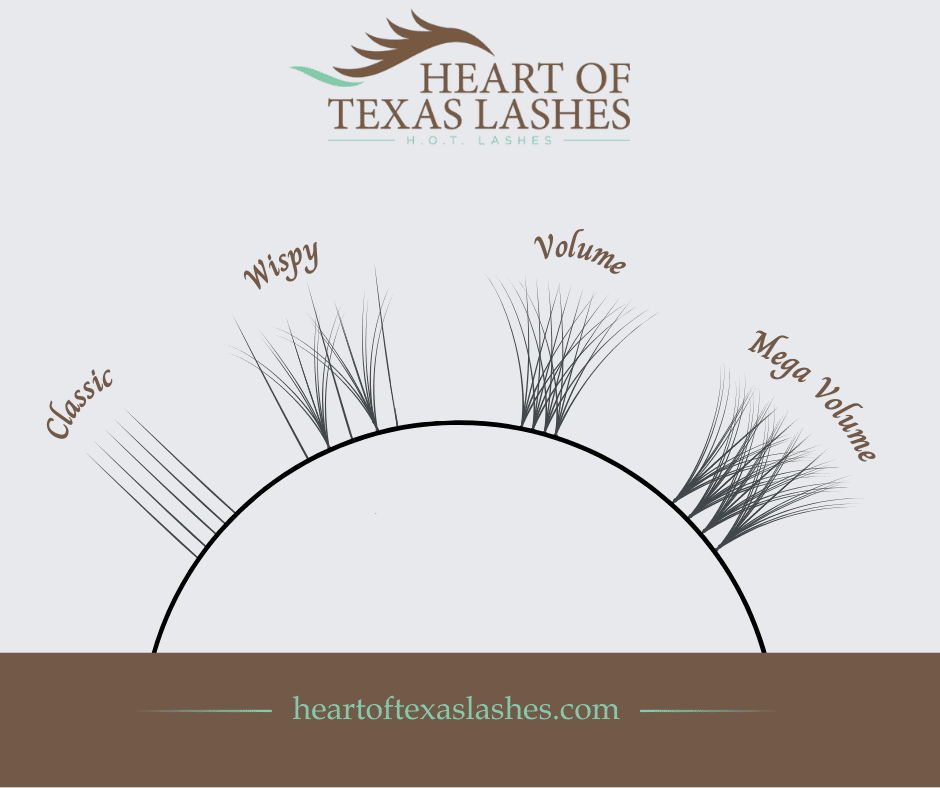 What are Mega Volume Lashes?
Mega volume lashes offer the thickest density of all extensions, containing between six and 20 lashes per fan. A licensed lash artist undergoes extensive training to learn how to create custom mega volume lashes. The fans are ultra-lightweight, sitting lightly on the natural lash for a fluttery look. A mega volume fan weighs approximately the same amount as one classic lash. You can choose the type of curvature, length of extension and where you want the fan to be placed.
You may opt for just corner lashes, top only or go for an "everything's bigger in Texas" look with a full extension of super-long lashes. Our experienced lash artists will talk with you about the length and volume of lashes you want. Together, you can select a mega volume lash extension that complements your eyes for a full, feathery look that lasts for weeks.
What's the Difference Between Volume and Mega Volume Lashes?
Volume extensions are softer, thinner and lighter-weight than classic lashes, allowing more lashes per fan for a fuller look. Volume lashes use between two and five lashes per fan. Volume extension lashes range from 0.05 mm to 0.07 mm in diameter.
What is considered mega volume? Mega volume lash extensions are made from super-thin lashes, measuring between .02 mm and .03 mm in diameter. The thinner diameter and lighter weight allow up to 16 extension lashes to be applied on one natural lash.
What Size Lashes do you use for Mega Volume Extensions?
Our experienced lash artists know how to create mega volume lashes that will suit your unique eye shape. The lash artist calculates volume, fan size and weight to create a customized lash extension that considers the condition and quality of your lashes. Lengths come as short, 5 mm to 8 mm; moderate, 9 mm to 12 mm; long, 13 mm to 16 mm; and extra-long, up to 20 mm.
If you have strong natural lashes, fans can hold more lashes. The goal is to create a fan with a weight your lashes can bear.
If the lash artist adds more extensions, the diameter of each lash must decrease to keep the weight constant. If you want thicker or longer extensions, we reduce the number of strands on a fan. That way, the weight is carefully calculated and balanced to avoid damaging your natural lashes. Extensions that are too heavy can droop. You do not want droopy lashes!
Are Mega Volume Extensions Safe?
This is an important question. The answer is yes, as long as an experienced, licensed lash technician does the application. The key to a correct application is to isolate each natural lash as extensions are applied. If lashes are not isolated, natural lashes and extensions will stick together. After a few days, you may feel pain, and your natural lashes may be damaged.
Our talented lash artists also consider the growth stage of each natural lash. New-growth natural lashes are shorter and thinner than mature lashes. Extensions applied to baby lashes may look good at first. However, as lashes grow, the extensions will become asymmetrical or stick out too far, which affects the look of the extension. Baby lashes can be damaged by the weight and break off. We apply extensions with shorter lengths and less volume for immature lashes so that they become incorporated into the design as they grow.
After you spend the time and money on a mega volume lash extension, you will want to take care of it. Our lash artists will explain how to care for mega volume lash extensions. A properly applied and well-maintained extension can last up to six weeks.
For more information about volume extensions, or to book an appointment, call Heart of Texas Lashes today.