Do you want your partner's heart to flutter when you flutter your eyelashes? Eyelash extensions create thick, beautiful lashes that bring out the natural beauty of your eyes. You can choose the type, shape and thickness of your lash extensions to complement your facial contours and accentuate the  mystique of your eyes!
There are a variety of eyelash extension styles trending right now.  We've put together info on the hottest eyelash extensions to help you choose a style that captures your personality or mood.
Get jazzed up for your next party with doll eyes eyelash extensions.

Make a cool statement with colored lashes.

Get sultry with cat eye extensions.

If you want natural-looking eyelashes, go with wispy extensions.
Whatever you do, choose a trained lash artist like the ladies at Heart of Texas Lashes who knows how to create the look you want. Let's delve into the trending eyelash styles now!
Cat Eye Makeup and Cat Eye Extensions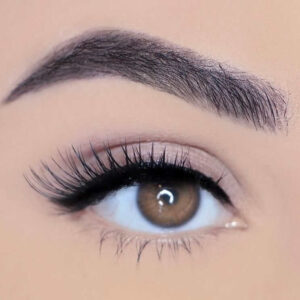 Sexy, sultry, mysterious, alluring—get dramatic with 'cat eye' eyelash extensions. This style of extension means they are shorter in length at the inner eye and gradually get longer toward the outer corner, giving your eyes a feline look.
Cat Eye works grea round eyes, close-set eyes and almond eyes. Cat eye makeup does the same thing using eyeliner, eyeshadow and mascara to elongate, lift the outer edge and enhance your eye's natural shape.
Cat eyelash extensions and makeup make round faces look slimmer and more sharply contoured. Ask your lash artist about which feline eyelash extension styles suit you best. Totally wow your partner with your new look. Let your eyes say it all.
Doll Eye Extensions
Do you want a bright-eyed, baby doll look?  Doll eyes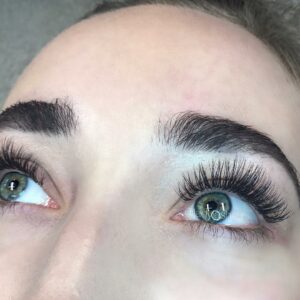 lash extensions open up your eyes, giving a fresh, wide-eyed look. In this style, the thickest, longest lashes are applied over the center of the eyelid, and shorter lashes are placed at the corners. You and your lash artist can decide on the length and thickness of each section so that your lashes suit the shape of your eye. End with a classy curl that accentuates the lift. Give a knowing smile when people ask exclaim, "Oh, how long your lashes are!" and ask you if they're real!
If you want to share your secret, tell them about Heart of Texas Lashes in Weatherford, Texas.
Wispy Eyelash Extensions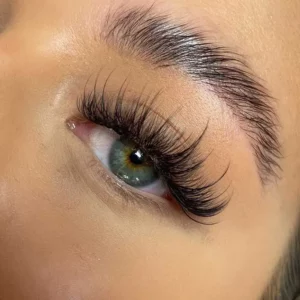 If you want a natural yet full look, go for a wispy lash extension. Think Kim Kardashian. Feathery soft spikes are created by alternating short and long lashes. Best of all, you can choose from a selection of lash styles for a so-you, customized look. Add volume for drama. You can even blend styles, and go with a wispy cat lash extension for a sexy look. Or, a wispy doll eye extension is great for hooded eyes or if want your eyes to look bigger. Wispy extensions are feminine and elegant. For an edgy look, add volume.
Colored Eyelash Extensions
Colored eyelash extensions are so fun! The rainbow of colors is endless. Go bold! Add spice. Accent your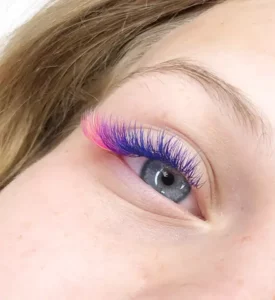 mood. Pick a color that matches your eyes or one that totally contrasts.
For brown eyes, go for green or orange. For blue eyes, make 'em pop with iridescent purple or pink glitter lashes. Whether you want single-color, multicolor rainbow lashes or fringe color on the tips, each has an alluring "wow." Are you going to Mardi Gras or a costume party? Match your lash color with the colors of your costume—from red-hot lashes to a glam black and white flutter. Create a lush lash look with your stylist to stand out and make heads turn.
If you want to feel good about yourself, and cut down on makeup prep in the morning or keep your glam look 24 hours a day, eyelash extensions are for you. Contact our experienced, trained lash artists at Heart of Texas Lashes to customize an eyelash extension that is totally you!