You know the disappointment of leaving the salon with your new lashes, only to find that they look nothing like you hoped? They're too sparse, too clumpy, or worse…uneven.  After leaving defeated, you may have sworn off lash extensions altogether.
Before you give up on your dreams of long, voluminous lashes – know there is a better way! The next time you decide to try lash extensions, make sure you choose an eyelash studio instead of a hair salon.
Here's why…
Lash Studios Have the Necessary Tools and Products
Lash studios have the tools and products to give you the best possible lash experience. From high-quality, hand-made lash fans to the best adhesives and sealants, lash studios use only the best to give you glamorous eyelashes that last.
Lash studios use different tools like tweezers and scissors to create the perfect lash look for you. They will also have various lash extension options available, so you can choose the style, length, and density you want.
In contrast, hair salons typically have limited lash extension options and supplies. This means that you may not be able to get the look you want, and your lash extensions may not last as long.
Experienced Lash Artists
When it comes to getting your eyelashes done, you want to be sure that the artist applying them is a trained lash professional. After all, these are delicate procedures that require a gentle hand and a steady eye.
Heart of Texas Lash Studio, for example, only hires the most experienced and qualified lash artists to work on our guests. You can rest assured that your lash technician knows what they're doing.
Professional lash artists understand that lash lifts, lash tints and extensions are not a one-size-fits-all procedure. Studio lash techs take the time to customize a look that is perfect for you, whether that's classic or mega volume. Your lash artist at our studio will start by assessing your natural eyelashes to determine the best length and volume for your face, mindful of the look that YOU ask for.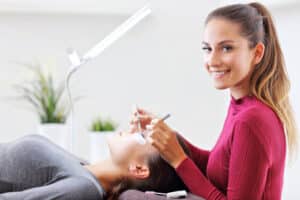 From there, they will skillfully apply the lash extensions to avoid damage to your natural lash.
In contrast, hair salons may not have seasoned lash technicians on staff with the necessary training or experience. This could lead to a less-than-ideal lash experience and even damage your natural eyelash. Hair salons will also have an environment that is not conducive to lash extensions. Chemicals in the salon and humidity – too much or not enough – can cure the adhesive prematurely or not at all and being on the open floor of a hair salon can disrupt the curing process, causing premature shedding.
Lash Studios Customize Your Look
Simply put, lash artists know everything there is to know about eyelashes. We are constantly keeping up with the latest lash trends and lash care. We give you the best possible advice on caring for your eyelashes, both before and between fill appointments. Beyond lash expertise, we also have a knack for matching a lash style based upon your face's unique shape.
If you have a round, oval or heart-shaped face, you'll probably want eyelash extensions that are longer in the middle to help elongate your face.

Likewise, if you tend to have oily skin, we might suggest a different type of adhesive to help keep your lashes in place.

For women with sensitive skin, we might opt for a hypoallergenic adhesive to minimize discomfort or redness.
If you have naturally sparse eyelashes, we'll be able to apply the lash extensions in a way that gives you the most volume possible. Lash studios should offer various lash extension options, so you can choose the style, length, and thickness you want.
Heart of Texas Lashes goes a step further. We handmake tiny fans of lashes together for custom lengths and thickness. By contrast, hair salons typically do not have the time or ability to hand-make custom lashes unique to your eye. You may not lash receive the same level of service or results that you'd otherwise get at a lash studio.
Lash Studios Have a Relaxing Atmosphere
When you walk into a lash studio, you will immediately feel the difference between its atmosphere than that of a bustling hair salon. The lighting is warmer, the music is softer, and the overall vibe is calming.
Salons typically have brighter lighting, louder music, and a more chaotic atmosphere. Because hair salons are not specifically designed for lash extensions, the technicians may not have a dedicated lash room. Therefore, you may get your lash extensions done in the middle of the salon, surrounded by other people getting their hair cut and blow dried.
Let Our Lash Artists Beautify Your Eyes
Whether you've had lash extensions before or this is your first time trying it out, it is always best to go to a lash studio instead of a salon. At Heart of Texas Lashes, you will experience the highest quality lash services available.
We offer a variety of lash extension styles and lengths to choose as well as lash lifts or lash tints. The safety of your natural lashes is always our top concern right next to your satisfaction when you see your new set of lashes! Let our Lash Artists create a look that is perfect for your beautiful face! Contact us today to schedule an appointment, but be warned it may lead to a serious lash addiction!